Image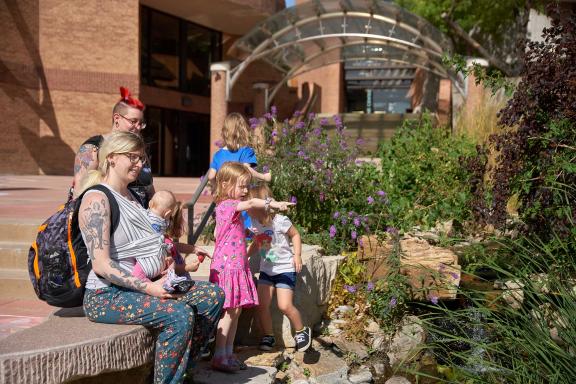 SUMMER HOURS
(Memorial Day to Labor Day)
Welcome Center
MON: CLOSED
TUE-SAT: 9AM to 5PM
SUN: 12PM to 4PM
Helen T. White Galleries &
Buell Children's Museum
MON-TUE: CLOSED
WED-SAT: 10AM to 4PM
SUN: 12PM to 4PM
WINTER HOURS
(Labor Day to Memorial Day)
Welcome Center
TUE-SAT: 10AM to 4PM
SUN-MON: CLOSED
Helen T. White Galleries &
Buell Children's Museum
TUE-SAT: 10AM to 4PM
SUN-MON: CLOSED
ADMISSION
Members: FREE
Adults: $10
Kids: $8
Seniors & Military: $8
Free adjacent parking is available in the South Lot (entrance at 2nd Street Light) and the North Lot (entrance off of 4th Street by the Greater Pueblo Chamber of Commerce).
Masks are OPTIONAL for vaccinated guests.
The Arts Center continues to maintain the highest standards of cleanliness during the COVID-19 pandemic. Masks are optional for fully vaccinated adults. Masks are required for anyone 10 years of age or older who are not FULLY vaccinated. If you need a mask, we can provide one for you. The Arts Center facilities staff conduct hourly sanitation sweeps and each department has been equipped with hand sanitizer.
Experiencing any of these symptoms?
✔ Fever? ✔ Cough? ✔ Chills? ✔ Muscle aches?
✔Shortness of breath or difficulty breathing? ✔ Sore throat?
✔ New loss of taste or smell?
We hope you feel better soon. Please plan to visit us another time!
From the Pueblo Health Department, please follow these standard guidelines:
✔ Wash your hands often for at least 20 seconds with soap and water.
✔ If the opportunity for hand washing is not available, use hand sanitizers.
✔ Avoid touching your eyes, nose, or mouth.
✔ Cover your coughs and sneezes.
✔ Avoid handshakes or hugs.
✔ And if you are feeling unwell, please plan to visit us another time!
The Sangre de Cristo Arts Center reserves the right to set capacity limits for all events.
We look forward to welcoming you to our campus!
DIRECTIONS
The Sangre de Cristo Arts and Conference Center is located in the heart of downtown Pueblo, just off I-25 at exit 98B with free parking and within walking distance from the Union Ave Historic District, the Historic Arkansas Riverwalk of Pueblo, shopping, restaurants, and downtown hotels.
210 N. Santa Fe Ave.
Pueblo, Colorado 81003
719-295-7200