Image

EUREKA! showcases works inspired by some of the greatest historical figures of all time, such as Archimedes and Leonardo da Vinci, as well as inventions from some of the most important eras in history!
 
Eureka! | 6.4.22 - 10.29.22
The Buell Children's Museum wishes you a warm Benvenuto to our EUREKA! An Interactive History of Science for Children Exhibit.
"Learning is the only thing the mind never exhausts, never fears, and never regrets."- Leonardo da Vinci 
Guests of all ages are encouraged to come and engage in one of our most interactive exhibits to date!
Discover the basic principles of modern science in this dynamic exhibit from Florence, Italy!
Absorb new knowledge of ancient concepts from the Hellenistic Era to the mighty Roman Empire, and finishing in the High Renaissance
Venture into the minds of some of the most outstanding scientists and thinkers in human history: Archimedes, Marcus Vitruvius, and Leonardo da Vinci
Ignite your passion for learning by putting these fundamental, and functional, models to the test
Nurture your curiosity by engaging in workshops, games, and activities meant to broaden the mind
Collect information at your own pace through this self-guided exhibit
Immerse yourself in the beauty of science and be inspired to observe the world around you!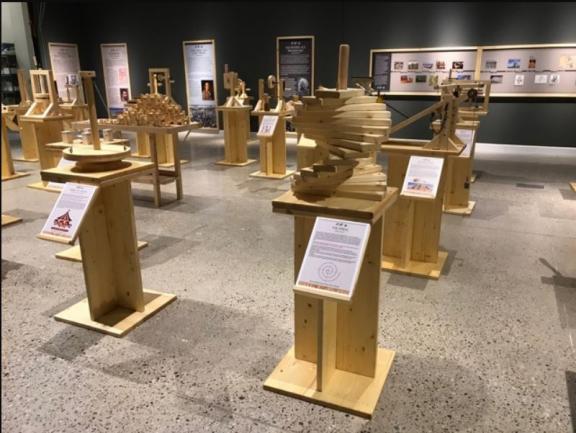 These models were created specifically to give young audiences a tactile, experiential learning foundation that they can use to understand the world around them. However, it is never too early or too late to acquire knowledge! All guests are welcome to experience this groundbreaking exhibit developed by The Niccolai Group Artisans of Florence.
EXHIBITION DETAILS
DATE
June 4, 2022 to October 29, 2022
COST
Members: Free
Adults: $10.00
Children: $8.00
Military & Seniors 65+: $8.00
OTHER INFO
Located on the 1st floor of the Buell Children's Museum building.
This 12,000 square-foot, two-level facility offers innovative, hands-on exhibits where children of all ages spend a morning or a day exploring STEAM (science, technology, engineering, the arts, and math). With such innovative exhibits, it's no wonder the Buell Children's Museum has been voted the "Best Museum in Pueblo" for over a decade!
Masks are OPTIONAL for vaccinated guests.
The Arts Center continues to maintain the highest standards of cleanliness during the COVID-19 pandemic. Masks are optional for fully vaccinated adults. Masks are required for anyone 10 years of age or older who are not FULLY vaccinated. If you need a mask, we can provide one for you. The Arts Center facilities staff conduct hourly sanitation sweeps and each department has been equipped with hand sanitizer.
Experiencing any of these symptoms?
✔ Fever? ✔ Cough? ✔ Chills? ✔ Muscle aches?
✔Shortness of breath or difficulty breathing? ✔ Sore throat?
✔ New loss of taste or smell?
We hope you feel better soon. Please plan to visit us another time!
From the Pueblo Health Department, please follow these standard guidelines:
✔ Wash your hands often for at least 20 seconds with soap and water.
✔ If the opportunity for hand washing is not available, use hand sanitizers.
✔ Avoid touching your eyes, nose, or mouth.
✔ Cover your coughs and sneezes.
✔ Avoid handshakes or hugs.
✔ And if you are feeling unwell, please plan to visit us another time!
The Sangre de Cristo Arts Center reserves the right to set capacity limits for all events.
We look forward to welcoming you to our campus!