Image
DA VINCI: MACHINES & ROBOTICS | 6/4/22 – 10/29/22
Created by the acclaimed Artisans of Florence in collaboration with The Niccolai Group (Firenze), the exhibition consists of more than 60 exhibits, reconstructed from the manuscripts (Codices) and drawings of 15th century Renaissance artist Leonardo da Vinci.
Exploring and connecting his students in nature, anatomy, mechanics, flight and robotics, the exhibition demonstrates the relevance in Leonardo's work today.
EXHIBIT SPONSORS:
Image

Mona Askwig · Kerry and Dan DeRose · Sylvia and Ted Clair
Kathy Farley and Fran McClave · Greater Pueblo Chamber of Commerce
Rita Gersick · Kitty and Mark Kennedy · Elaine and Bill Nicoll
Dr. Pamela Parks and Phillip Pierce · Pueblo Urban Renewal Authority
Wendy and Dr. Barry Rapp · Dr. Jarvis and Mary Jo Ryals
Dorothy and Jessie Shaw · Drs. Sara and Robert Tonsing · Barb and Bill Vidmar
Pueblo Day Nursery Children's Foundation
EXHIBITION DETAILS
DATE
June 4, 2022 to October 29, 2022
COST
Members: Free
Adults: $10.00
Children: $8.00
Military & Seniors 65+: $8.00
OTHER INFO
Located on the 3rd floor of the Helen T. White Galleries building.
Image
Tom Rizzo
Director of Traveling Exhibitions
Artisans of Florence - International Pty Ltd
Tom Rizzo studied history at a university in Melbourne and graduated with a Bachelor of Arts majoring in History in 2005. After graduating from university, he moved to Italy where he trained as an artisan under the tutelage of Gabriele Niccolai, head of the highly esteemed Niccolai Group where he learned the time-honored traditions and ancient techniques used to craft the masterpieces of the original Renaissance Man, Leonardo da Vinci.
For more than a decade Mr. Rizzo has been promoting and managing the Artisans of Florence International traveling exhibitions. He is involved in installing the exhibitions worldwide and instructing museum staff in the proper care and maintenance of the exhibits.
Mr. Rizzo has been interviewed by prominent media figures over the years and has featured in many newspaper articles and a wide range of television and radio programs including The New Inventors (ABC TV), The Collectors (ABC TV), Totally Wild (Channel 10), The Shak (Channel 9) and a documentary by Japanese filmmakers NHK (Discovery Channel). He has also hosted many VIP and educational group tours and has contributed to educational resources to augment the educational value of the exhibitions.
Curatorial Statement – Da Vinci Machines and Robotics
"It's great to have the opportunity to be able to engage with and educate so many people about the history and life of such a brilliant person, especially as there is so much misinformation out there. 
I feel especially privileged not only to be able to work with the world's leading Vincian historians and engineers to create Leonardo's inventions for the first time, but also to rediscover designs and machines that have been lost for over half a millennium".
What drives me to study Leonardo da Vinci's work
"His ability to innovate in so many different fields, ranging from art, biology, science, engineering, architecture, and mathematics to name a few. I especially admire the way in which Leonardo drew inspiration from the natural world and based many of his designs on principles and features found in nature".
Image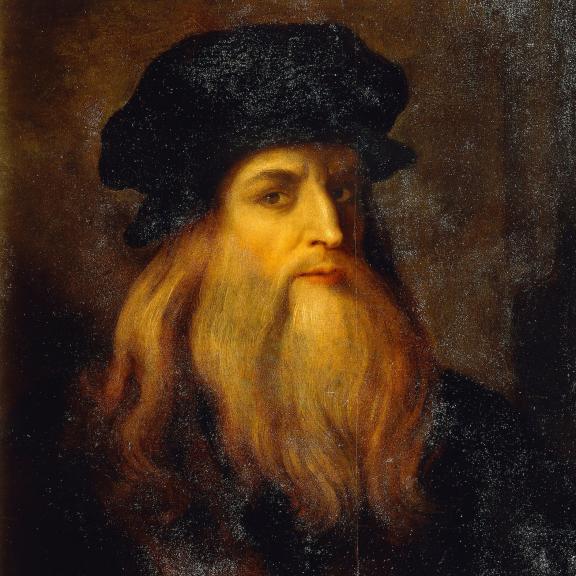 Leonardo was born in 1452 near the town of Vinci during the Italian Renaissance. He didn't have a formal education yet he taught himself throughout his life. He learned to draw and write in his own way. 
His handwriting went backwards. His drawings impressed the master Verrocchio enough to take him on as an apprentice painter and sculptor. Verrocchio's studio completed the Dome of Santa Maria del Florence. Leonardo was fascinated with the clever use of machinery to raise heavy objects. 
These experiences helped to broaden Leonardo's ideas of what was possible. He studied things inside and out.  He took careful measurements. Through observation and experimentation, he made many advances in every discipline in which we worked: he was an inventor, artist, anatomist, mathematician, engineer, and musician.  He was one of the first to use the modern scientific method.